Auction#08
Current bid: $125
Artist : Kat Livengood
Subject : The Wild Ones
Size : Stretched Canvas 16×24
Out of stock
There is no bid for this product
Description
Artist : Kat Livengood
Subject : The Wild Ones
Size : Stretched Canvas 16×24
About the Artist :
I live in the high desert of Santa Fe, New Mexico. When I'm not at my Canyon Road studio, I'm traveling all over the west with my husband, artist Kelly Moore, looking for wildlife and southwestern landscapes. We're always searching for a good story, and agree that the journey itself is where great unexpected fun is to be found.
Horses are my favorite subjects. Some of those I photograph live in wild horse territories, others have survived round-ups and long term holding pens, and are living untamed on private land throughout the West. Wherever they are now, I want to honor their wild souls.
American mustangs, wolves and buffalo, part of our Western heritage, are increasingly rare; sadly, there is less land for them all the time, and less opportunity for us to see them in any sort of a natural setting. If my images can bring their stories to light and help someone become more aware of the beauty, dignity and necessity of maintaining the wild, I'm happy.
I work in digital format and print using archival pigment ink on museum-grade fine art paper, canvas, aluminum and acrylic.
A camera alone can never see like the eye sees; my goal is to create an image that conveys how it truly felt to be there in the moment; be in the presence of wild mustangs, watch a herd of elk run across the plains, or stand at the edge of the Grand Canyon in a snow storm.
I have a true passion for wild animals who are struggling for their lives here in the United States, and being removed from their natural habitats. A percentage of proceeds from every equine photograph sale is donated to one of several mustang sanctuaries, and a percentage of proceeds from wolf images sold is donated to a wolf sanctuary.
Come see me in Santa Fe at Dark Bird Studio, 620 Canyon Road, End of Canyon Alley. You can also visit my online store at http://katlivengoodphotography.bigcartel.com/ or email me at kat@katlivengood.com for info on large pieces. All images here ©Kat Livengood Photography 2009-2015.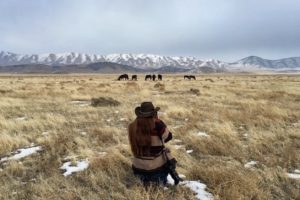 Only logged in customers who have purchased this product may leave a review.