Auction#09
Current bid: $125
Artist : Ted Tahquechi
Subject : Ocean Sunset
Size : Framed Print
Out of stock
There is no bid for this product
Description
Artist : Ted Tahquechi
Subject : Ocean Sunset
Size : framed print
About the Artist :
My name is Ted Tahquechi, and I am a legally blind photographer.
My love of photography began in 1986, when I started shooting and developing black and white film. I spent the better part of my career working in a very visually challenging  world as a video game producer.
After a terrible car accident in 1999, I was left with no vision in my right eye and only  5% remaining vision in my left. For a brief time after the accident, I did not work on my art.  I truly believe that the day I took the camera out again changed my life. With my visual limitation, I have almost no distance sight, and things get very blurry  at about a foot away. Starting slow, I used the camera at family gatherings to capture moments I could not see.  My camera has now became a tool I use to later see on my computer monitor what I miss as I walk through life.
It was not until very recently that I have taken the camera outdoors and started shooting landscapes.  I find this an extremely challenging prospect as my vision creates a potentially dangerous situation when trying to find a spot to photograph. Outdoors there is no control over the light on your scene and I have a hard time telling what type of light is going on in the distance on a landscape.  Often the only feedback I have when I click the shutter, is the tiny screen on the back of the camera, which is very difficult for me to see.
view more of Ted's amazing works – http://www.tahquechi.com/gallery/landscapes-gallery/
Seen here with Steph – Beautifully framed print (dark walnut burled frame)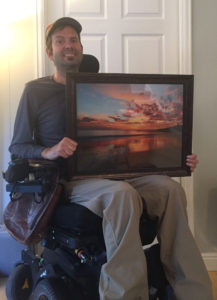 Only logged in customers who have purchased this product may leave a review.